Currently listening to
- Stop and Stare ;)
Current mood
- @@
Currently addicted to
- Cheezels & Seaweed :X
Gees. Ah Long Pte Ltd's screening today !! Wonder when only I can go watch :( No one is free. After exams perhaps ? dk still showing or nots. :/Sighh. Jack Neo's movies are always darn "FEI" one :X but full of meanings :)
Its Wednesdayyyy ._.
I think should start revising liao ;)
One week holiday isnt enough.. AT ALL !
why not give us summer break ? :O
we wouldnt need to go sch at all.
its summer the whole yr in Malaysia right ? :P
cheerios!
Ohya.
Good luck to those taking their results today. Lol.
SPM right ? Next two yearsssss.
PMR now : /
byeeee -.-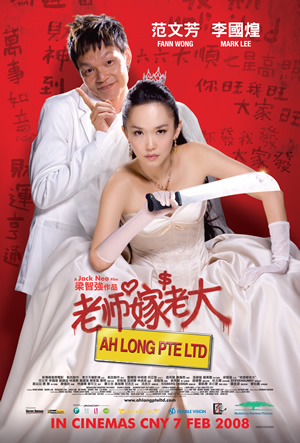 Ah Long Pte Ltd (

老师嫁老大

) is a Malaysian-produced comedy film directed by Singaporean Director Jack Neo, starring Fann Wong and Mark Lee.
Ah Long Pte Ltd is a light-hearted black comedy about the triad world and the money-lending business. Instead of treating the subject of Ah Longs (money-lenders) seriously, the movie takes on a humorous and sarcastic treatment. It depicts how a young lady tries to restructure her money-lending triad into a professional and 'loving' triad that stands against the use of violence after she takes over from her triad leader who has retired. Her various restructuring plans (which are no doubt very creative) bring about hilarious results.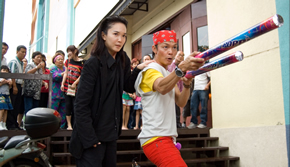 Li Hua tired of her mother's constant nagging to get married, she finally relented and proposed to Mr Fang (Mark Lee), an effeminate dance instructor cum image stylist. Surprised to many and even herself, Mr Fang accepted the proposal. The unusual union, despite the misfits, soon blossom into love.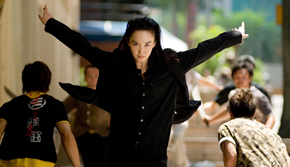 CASTS
Fann Wong
stars Wang Li Hua
Mark Lee
stars JoJo Fang
Richard Low stars Chen Jun
KK Wong stars Bing Tou
Daniel Tan
stars Huang Di
Jack Lim
stars Hong Qing Long
Lai Ming
stars Li Hua's Mother