Okay lah, it's a bit cacat-ed cos of the folding of the paper.
But I srsly love this word A LOT. :(

Oh yeaaaa! Finally a title that actually mean something :D :D :D
Went out early today, was wondering what makes the road jam at that early hour of the day.
A car broke down, so, people will automatically slow down to take a look.
Now, that's why ._.
Big yellow bus came.
Fetched 3 schools.
Section 4 and SMK PBP(1)
Went competition before in both schools :)
Art & Poem Recital :) :)
Those were the days :) :) :)
Hui Teng, Josh & Kritz went together.
We're like the ones in the bus that talked quite loud =x
Playing around with phones and camera.
Josh played with my phone's navigator, before I continue,
use Navigator need money one boh? :x I srsly don't know -.-
We reached at some Jusco in Klang and thought it was Klang Parade LOL!!
While Josh said, there's still 3.3km on my phone's navigator -.-
Was really funny that time xDD
Then then, reached the REAL Klang Parade.
Woah!! Human Mountain Human Sea!!
There goes the 0.01% of winning lol.
Started writing and practicing and not to forget ..
LAUGHING ALMOST EVERY MINUTE -.-
Josh laaaaaa =x
Ate Secret Recipe for brunch.
Slacked around Klang Parade, okay luh.
Not much stuff.
Results announcing time.
The end lol.
I really need to thank Pn. Liew though.
While waiting for the results, she was sitting down there (4 of us are on the first floor) ..
All alone ...
Everybody have their friends and gang.
I bet she knows that, none of us will actually get any prizes..
Others were like from Chinese based secondary school ..
Or learnt calligraphy some where outside from a pro calligrapher.
Yet, she doesn't mind to spend her time doing all this ..
Okay lah, it's getting kinda too far, so just a big THANK YOU! :)
She won't even read this you see -.-
Never mind.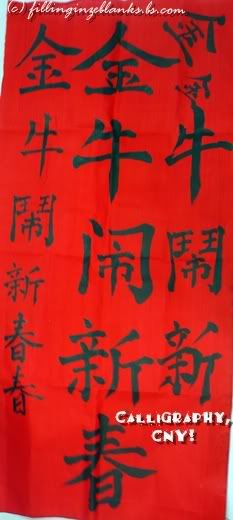 Not that nice lah, was practicing =x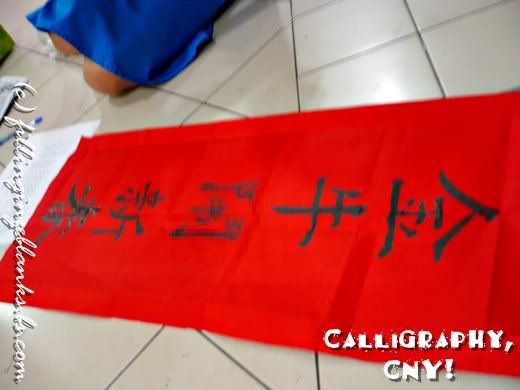 This is what I passed up. Not satisfied with it though.
Kinda censored the "nao" cos it's too horrible.
Yours truly taken by Hui Teng when Yours truly is drying up her paper zzz.
The girls :)
It was quite late when we leave.
RAWRRRR !!
Waited at SMK PBP (1) with some of Hui Teng's friends.
The whole thing was weird ._.
Then cousin came and fetched to IOI Mall.
Met another teacher before going back lol.
*always meet teacher one* :P
These days been "ma fan-ing" her to fetch me =x
Thanksss a lot :)
How I wish I can drive now -.-
Anybody wanna go for undang this year end?
I don't care what SPM next year, I'll learn driving first no matter what hmpf!
PS: Josh, where's the Nice Smell photo? HAHAHA *inside joke* :P
Note to self: Use paper wisely next time ;x