Okay, yesterday I suddenly wanted a porcupine as a pet, but I was wrong (blush) It was a hedgehog instead (blush) *facepalm*
Lol, it's size is much more smaller compare to a porcupine, and much more friendlier I think :/ porcupine is a bit too large in size :/
They prey on many common garden pests too!
source
See! Even when they're all grown up, they're still cute :X
Can you imagine them when they're babies?! *omgosh*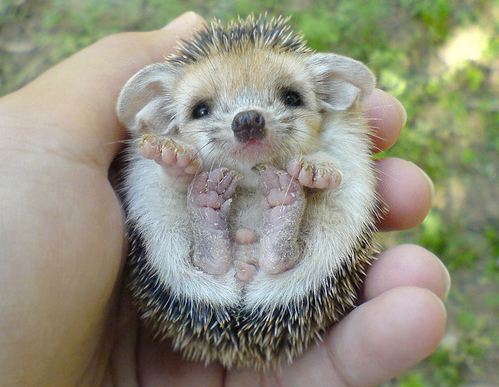 source
EEEEEEEEEEEEEE, SHO CUTEEEEEEE :3 :3
Okay, random post :P
I think this is just momentary =.=
Although it's a veeeeery interesting pet, but it'll be a hardwork taking care of a HEDGEHOG right? :/
Imagine a hedgehog running around your house, accidents happen *ouch* xD
So .. I shall stick back to a puppy!
Perhaps a toy Maltese or a toy Poodle?
Omgosh, browns one are supeeeeer cuteeeee!
my cousin's fren's pup.
asdhgaksgdoiweurkjfhasdfasgydfgaksdhgfak
jsdhgfauyterwagfkasdjgfasdasdfhgasdyfgausy

LOOK AT THOSE EYES OMG, they killed me :( LOL!
Okay la, enough of random-ness, back to work :( Bye!
Hope you enjoyed the random-ness too HAHAHA :P